This year's winter has turned out to be more brutal than ever, with the East Coast and Midwest states bearing majority of the brunt. Paul Martino reports in CBS Pittsburgh about the collapse of an old building's roofing due to heavy snow load. Luckily, no one was hurt in the incident although the owner's printing business suffered a terrible loss.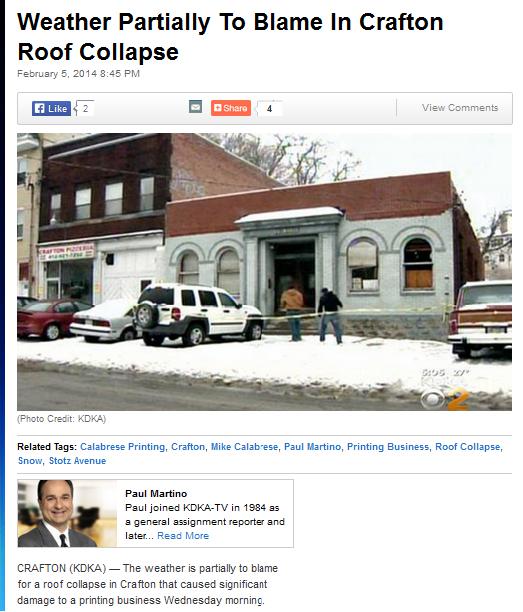 While this incident took place in Pittsburgh, it can serve as a lesson to commercial property owners in other places, including those in St. Louis, MO, to regularly have their roofs inspected and maintained. This is particularly true for aged commercial buildings where the roof decks are likely to have insufficient ventilation, making the roof more prone to ice dam formation and water accumulation. Owners of commercial buildings with flat roofs–where snow and water can't easily slide off– should especially be mindful of such conditions.
Fortunately, experienced roofing contractors in St. Louis, MO can install a new flat roof for commercial buildings that are highly resistant to the effects of heavy snow loads. According to ThisOldHouse.com, a well-designed flat roof is smooth, strong, and, most importantly, watertight. Not all of these qualities are guaranteed in all metal panels or asphalt shingles. To achieve these properties in commercial roofing, roofers need to install ethylene propylene diene terpolymer (EPDM) or the innovative Gaco coating.
EPDM is a synthetic rubber roofing membrane that is especially designed for low-sloped roofs. Meanwhile, Gaco coating, which is available from trusted roofing companies like Oasis Commercial Roofing, is a substrate that expands or contracts according to temperatures. Both options can provide commercial roofing better protection from harsh weather elements
A roof collapse of a business establishment can definitely hurt the business' operations. As such, commercial property owners have to rely on experienced roofing contractors in St. Louis to install a roof that won't easily weaken because of extreme weather conditions.
(Source: Weather Partially To Blame In Crafton Roof Collapse, Pittsburgh.cbslocal.com, Published 5 February 2014)